3 Trends in the Roofing Industry You Need to Know
Industry experts, including IKO, reveal what the numbers show & how that could affect your roofing project & choice of asphalt shingle.
Every year, the National Roofing Contractors Association (NRCA) hosts the International Roofing Exposition (IRE). Professional contractors, asphalt shingle manufacturers and makers of other roofing products from across North America discuss topics of interest to both contractors and homeowners, such as trends in the roofing industry.
At the most recent IRE, Roofing Contractor Magazine sponsored a "state-of-the-roofing-industry" report. From sales to science to politics, 2017 is shaping up to be a most unusual year. At IKO, we thought we should share with you some of what we learned. Because, frankly, we were amazed to find out how many ways the quickly changing world around us is affecting our business and you, as a homeowner.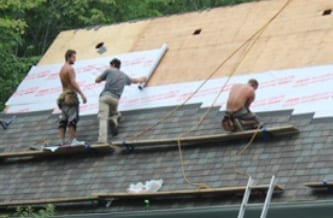 While new housing starts are expected to increase in 2017, roof replacements comprise the bulk of residential contractors' business.
Sales forecasts
According to the National Association of Home Builders (NAHB), residential housing starts in 2016 were estimated to be 1.16 million, up almost 5 percent from the previous year's total of 1.11 million units. Projections call for single-family homes to rise 10 percent to 855,000 units in 2017 and a further 12 percent to 961,000 the following year. Multi-family housing starts are standing pat at approximately 400,000 units which is slightly ahead of 2016's pace.
Their report further stated that the numbers above refer to brand-new construction, while the majority of residential contractors' business is based on roof replacements. Steep-slope asphalt shingles remain the top choice for both applications with metal roofing placing a distant second.
This projected growth is very good news for the residential roofing sector, but what are the implications if you're a homeowner looking to replace your roof?
Several factors need to be considered. With that much anticipated demand, manufacturers of asphalt shingles will need to gear up production volumes. In the case of IKO, the company broke ground in 2016 to build a new 250,000 square foot manufacturing facility in Hillsboro, Texas to serve the Southwest.
As a homeowner, you should make sure that the roofing contractor you're considering has timely access to a supply of the asphalt shingle profile and color you've chosen. You can also expect that reputable roofers will be very busy so, unless your roof requires emergency repairs, factor a reasonable waiting period for availability into your project's schedule.
It's almost impossible to predict how this demand and supply will affect pricing because there are so many other unknown variables as part of the equation. Just one example among many is the price of petroleum-based products that go into the manufacture of asphalt shingles and whether they're of foreign or domestic provenance.
Climate change
Across the country and around the world, everyone has been talking about the weather even more than usual. "Global warming" has now been rechristened "climate change," to allow for the extremely cold weather and snow experienced in countries where winters are normally subtropical.
Highly unusual and destructive weather struck across the nation. Shown left to right: large hailstones pummeled Georgia and Tennessee; tornadoes and twisters destroyed homes in Oklahoma and Kansas; abnormally deep snow packs in California's Sierra Nevada melted to threaten power dams, flood large areas and end the drought conditions of several years past.
Extreme weather was a major factor in raising roofing sales and production numbers in 2016. Keith Lowe, Vice-president of Sales for IKO, said, "This was one of the largest storm years we've had in the past four years, and the demand for roofing was definitely up. We anticipate this momentum to continue into 2017, as we don't expect storm activity to slow down."
Storm data statistics from the National Oceanic and Atmospheric Administration (NOAA) concur noting that 20,237 significant storms were recorded in 2016. While that's a slight increase from 2015 (19,172), it represented the highest number in about three years and it was sufficient to cause disruption in the asphalt shingle supply chain.
If you're planning to replace your roof, please consider the climate changes you've experienced lately in your area and select the right asphalt shingles for those evolving conditions.
Have you noticed that high winds have suddenly become more common? Look for a performance laminate shingle like IKO Dynasty®. IKO Dynasty shingles have been designed to resist high winds and come with a Limited Wind Warranty of up to 130 mph (210 km/h).
Did your kids see their first-ever snowfall this year? If the temperatures are dropping lower than usual, as they did in many areas, you might want to include an ice and water protector as part of your total roofing package and consider a heavier weight shingle.
Our final word on climate is one of extreme caution. It is so important that you do your research, check references and hire a reputable, bonded, professional roofing contractor. A good place to start is finding an IKO Professional ROOFPRO® Contractor close to you.
There are many reputable roofers who specialize in the storm business; however, there are others who will take advantage of people whose homes have been damaged. They typically go door to door in storm-ravaged neighborhoods and will pressure you by saying that they're redoing your neighbors' roofs too, so all of you can benefit from a volume discount if you get yours done at the same time.
They may use inferior roofing materials or install them incorrectly. Once they've moved on to their next "victims," you'll never see or hear from them again, let alone have them take responsibility for any damage they may have caused, refund any money they may owe you or honor any "guarantees."
Your new roof is too big an investment in your home. Take the time to make it wisely and ensure you're dealing with a qualified, professional roofing company.
The "Trump Effect"
President Trump has lifelong, hands-on experience with construction and real estate that he pledges to leverage as part of his fiscal plan for America. His proposed policies have already generated jobs – and challenges – for the roofing industry and other building trades.
In 2016, America elected a real estate mogul and builder to the highest office in the land. President Donald J. Trump campaigned on a promise of rebuilding the country's infrastructure and is now waiting for Congress to authorize his request for funding.
His administration is proposing tax reforms, changes to health care, gutting regulations and in April 2017 he signed a Presidential Executive Order, encouraging companies to "Buy American and Hire American." All of these policies will have a direct bearing on the roofing industry and its employees, although some of the impacts are uncertain at this time of writing.
Political differences aside, the fact remains that building, construction and home ownership are key indicators of economic growth and the forecast is cautiously optimistic despite some rather daunting challenges.
The roofing industry must remain vigilant and work with the government, as new legislation is introduced and old regulations are rescinded, in order that existing safety standards and building codes are not adversely affected.
To date, the new administration has been moving quickly to fulfill the President's campaign promises and investor confidence in America has soared. It's entirely possible that millions of construction and infrastructure jobs will become available as a result.
However, the building trades have long suffered from a dearth of skilled laborers. When the sub-prime mortgage bubble burst in October 2008, the housing market collapsed and the "Great Recession" ensued, many workers left the construction business and have not returned. It is estimated that the construction labor pool is 23 percent smaller today than it was in 2007.
And according to a survey by the Associated General Contractors of America, 73 percent of contractors are having difficulty finding qualified workers to fill both salaried and hourly positions. In some markets, projects are being turned down because there's simply no staff available to complete them.
In research conducted by the National Association of Home Builders, nearly 30 percent of all construction workers are foreign-born and of those, nearly 53 percent were born in Mexico. Roofers, specifically, are 43 percent foreign-born.
A study conducted by the Workers' Defense Project and the University of Texas found that approximately 50 percent of construction workers in Texas are undocumented immigrants.
The Trump administration's plan to deport undocumented immigrants may further deplete an already too-lean labor pool.
For the homeowner, this potential national lack of adequate manpower is another factor that may delay your proposed roofing project or affect its labor cost, since contractors may have to offer financial incentives to attract and retain employees.
Fortunately, the roofing industry as a whole has been developing education and training initiatives to address the situation ever since the Great Recession.
For now, the most important thing that you can do as a homeowner is to be informed and aware of all the factors outlined in this article.
If you're considering a new roof this season, here's a list of resources you can check for updates about our industry or other entities mentioned in this article. You may wish to bookmark these sites or set alerts so that you'll be notified and kept abreast of the latest information.
For specific changes to building codes, environmental regulations, etc. please consult your state or municipal authorities.