Disclaimer: This article is not a substitute for legal advice or insurance advice. You should always consult legal and insurance experts before making decisions about your roofing company's insurance needs.
As a professional roofer, you need contractors insurance to protect you and your company in the event of accidents, lawsuits and employee injuries. Without insurance, you'd need to pay for these incidents out of pocket, which could put financial stress on your business. It's also possible that customers may only choose a roofer who has the proper insurance to cover them in case of an accident.
Buying roofers insurance isn't as simple as selecting a single policy. There are at least three different kinds of roofers insurance you may need: workers' compensation, general liability and a surety bond.  You may need additional policies to protect your business and to reassure customers that you're a professional. Also, roofing contractor insurance requirements vary in each state and province.
In this article, we'll explore when you may need these policies and how they can protect your business. We'll also cover a few extra types of insurance that may not be legally required, but can benefit you, especially if yours is a new roofing business. Insurance policies can be complex, and we recommend you contact a local insurance professional to get advice on the insurance needs and requirements of a roofing business in your area.
1. Workers' Compensation
Workers' compensation is insurance coverage that protects your employees in the case of an accident or injury. Roofing is a dangerous job. No matter how careful you are about your safety practices, there's always a chance that one of your employees may suffer a work-related injury.
Without workers' compensation insurance, you could be held liable for any medical treatments an employee may incur due to the injury, depending on local laws. You may also need to pay for missed wages or offer other benefits. Depending on the injury, such costs could be very substantial. Protect yourself from having to pay for these costs. Invest in a workers' compensation insurance policy, which will cover the expense for you, in return for monthly or yearly payments.
How Does Workers' Compensation Insurance Work?
Workers' compensation insurance isn't just for your employee. It's also to protect you from the high cost of medical care for injured employees. Here's an example of how workers' compensation insurance works in general. Please note that this example is only to illustrate how workers' compensation insurance is supposed to work. In the real world, there are many variables to consider that determine whether you will have coverage.
Let's suppose you employ a few roofers. Your team is installing a new roof. One of your employees accidentally hits his head against the chimney. He seems okay, but a bit dazed; so, you decide that it's best to visit the hospital.
At the hospital, he receives diagnostic scans, treatments, medications. For a few days afterward, he needs to stay at home to avoid another concussion. For some injuries, physiotherapy may also be needed for a full recovery.
Depending on the circumstances of the injury, you may need to pay your injured employee's wages while he recovers. You may also need to cover his medical expenses. That could add up to an enormous bill. Even worse, the employee could find some grounds on which you may have been negligent, in an attempt to sue you.
If your employee opts to go that route, he would still need to prove that you caused or contributed to the severity of his injury, which might be a challenge. As a result, most employees will accept the workers' compensation benefits. Such benefits provide immediate coverage, whereas a lawsuit may take months and result in no payout. In most circumstances, by accepting the benefits, your employee gives up his right to sue you and also the right to collect punitive damages.
That's how workers' compensation could provide vital protection to your business and assets, depending on your policy and circumstances of the accident. Plus, workers' compensation insurance also protects your customers, the homeowners.
Why Do Homeowners Care About Their Roofer's Workers' Compensation Plan?
Depending on your local laws, if you don't carry workers' compensation, that injured employee may be able to sue a homeowner for contributing to or causing their injury. The specific circumstances of the injury will dictate if a homeowner can be held liable, but few homeowners are willing to take the chance that they may get involved in a lawsuit with their roofer's employees. Homeowners want to choose a company with workers' compensation.
Workers' Compensation in Canada
In Canada, almost all businesses must pay into a provincially run workers' compensation program. Each province has its own insurance program with slightly different rules. In Ontario, the program is administered by the Workplace Safety and Insurance Board (WSIB). As a roofer, it will likely be mandatory for you to pay into your province's program the moment you start your business. You should always get advice from your lawyer or insurance professional about how best to fulfill your workers' compensation obligations.
Workers' Compensation in the United States
There are some state‐run programs for private workers' compensation in the United States, but they are not mandatory. In most states, however, employers must buy a policy or pay into a public workers' compensation insurance policy.
For example, in California, it is obligatory for roofers and other contractors to have a workers' compensation insurance policy. Alternatively, a business owner may be able to pay into the State Compensation Insurance Fund, a statewide program offering workers' compensation coverage. The California Department of Insurance helps business owners find policies that work best for them.
One notable exception is Texas, where it is not mandatory to have a workers' compensation policy in most circumstances. The Texas Department of Insurance can help you understand your insurance obligations.
Depending on the specific laws of your state, you may have the choice of paying a private company for workers' compensation benefits, obtaining a publicly run policy or choosing to pay the cost of your employee's injuries out of pocket.
Usually, only large corporations that have tens of millions in revenue and a strong, reliable cash flow will choose to pay out of pocket. Your roofing business, especially if it's a new one, will probably be much smaller; so, it will likely make more sense for you to pay an insurance company to offer your employees workers' compensation. Injuries are common in the roofing business. You may not have enough revenue to cover the cost of even minor ones, but always discuss your options with your lawyer or insurance professional.
2. Commercial General Liability Insurance
In basic terms, commercial general liability insurance protects your business in the event a third party (usually your customer) should incur accidental personal injury or property damage, or face a lawsuit.
General liability insurance is more variable than workers' compensation. The laws of your state or province or the policy of the insurer you chose may change what must or can be covered under a general liability policy. It's important to review the specifics of such a policy with an expert to make sure you have the coverage you need.
A typical general liability insurance policy may cover:
Property damage.
Bodily injury.
Legal costs.
Advertising injury (if you slander a competitor).
A general liability policy usually does not cover:
Employee injuries.
Your tools and work vehicle.
Punitive damages (depending on the state).
Errors and omissions (damages from mistakes or incorrect advice).
General liability insurance can offer you coverage that workers' compensation doesn't. To understand how this works, consider the following example. But, note it is just for informational purposes, as there are many variables in an insurance claim that cannot be accounted for here.
Imagine you're doing a small repair job, but a less experienced employee of yours makes a mistake and steps on a skylight that has yet to be secured. He falls through and hits the homeowner on the way down. As discussed above, workers' compensation could cover the cost of your employee's injuries. But what about any property damage and your customer's medical bills?
Your general liability coverage may cover the cost of your customer's broken skylight as well as any medical bills. If your customer sues you over this incident, general liability insurance may also cover the cost of your legal defense team.
It's important for roofing subcontractors to know that they may not be covered by the general liability insurance policy of the business that hired them, depending on which state or province they are operating in as well as the specifics of the policy.
Occurrence vs. Claims‐Based General Liability Insurance
There are two different types of general liability insurance: claims-based and occurrence.
Claims‐based insurance will only cover an incident if you make a claim on it during the coverage period. If an accident happens while you have a policy, but you don't submit a claim until the policy has expired, the insurance company will not cover the incident. If you didn't find out about the incident until after the policy had expired, you may not have insurance coverage either. Claims‐based insurance is generally cheaper than occurrence liability insurance.
Occurrence policies cover any incident that incurs a cost to you during your coverage period. For instance, if a homeowner sues you for an incident that happened before your occurrence policy came into effect, the policy may still cover your court costs, if you go to court when the policy has taken effect. If you didn't know about the incident before you bought the policy, occurrence policies should cover them; however, you should confirm this with your insurance professional.
When deciding which type of policy is best for your roofing business, review your existing or previous insurance policies and attempt to have continuous coverage. Each policy will have specific dates that determine when its coverage starts and ends. Any gap between policies could leave you open to liability without insurance. It's always best to review your business insurance with a lawyer or other expert whose first priority is your business.
Why Do Homeowners Care About Their Roofer's General Liability Insurance?
Homeowners understand that accidents can happen. That's why they prefer to work with roofers who have general liability insurance to cover the costs of those accidents. Homeowners may be able to sue your business or you personally for these costs even if you don't have general liability insurance; but if you can't pay, they may need to tap their own insurance or pay out of pocket. Because that's a risk they don't want to take, homeowners may demand to see proof of your general liability insurance before they accept your services.
Do Roofers Have to Buy General Liability Insurance?
General liability insurance is rarely mandatory for businesses in Canada and the United States. However, you may be taking a considerable risk if you choose to operate a business without commercial general liability insurance. You are at risk of not being able to recover the costs of damages or accidents associated with a job. This shortfall could destroy your business or you could be held personally liable.
How Much General Liability Insurance Do You Need?
Your policy amount should not be determined by how large or expensive your typical job is. Even a small repair job may end up costing millions in property damage, bodily injury and legal costs. Instead, you should seek to have a policy that covers the worst‐case scenario your business may face. Remember, if the costs of the accident, lawsuit or incident are above your coverage amount, you can be held liable for that amount and potentially lose your business to pay it.
Many roofing companies choose a commercial general liability policy between $2 million and $5 million, although you should discuss how much your specific business needs with an insurance expert before you choose a policy.
Surety Bonds
A surety bond, also known as a contractor bond, is a form of business insurance that will pay your customer if you fail to complete a job. You pay an insurance company a yearly fee. In return, they offer you a bond for a certain amount. Once you accept a job from a customer, you are obligated to complete that job. If you don't, your customer can file a claim with the insurance company to have their costs covered, up to a maximum amount, called the penal sum.
For homeowners, the obvious benefit of a surety bond is that they don't have to worry about whether or not you will finish the roofing job they've paid you to complete. If you go out of business, go bankrupt or otherwise fail to finish the job, they can get financial compensation.
As a professional roofer, it is in your best interests to have a surety bond to reassure your customers and win more contracts. You may also be required to have a surety bond of a specific amount in order to be licensed. For example, in California, the Contractors State License Board requires contractors to have a surety bond of at least $15,000. Your state may require a different bond amount.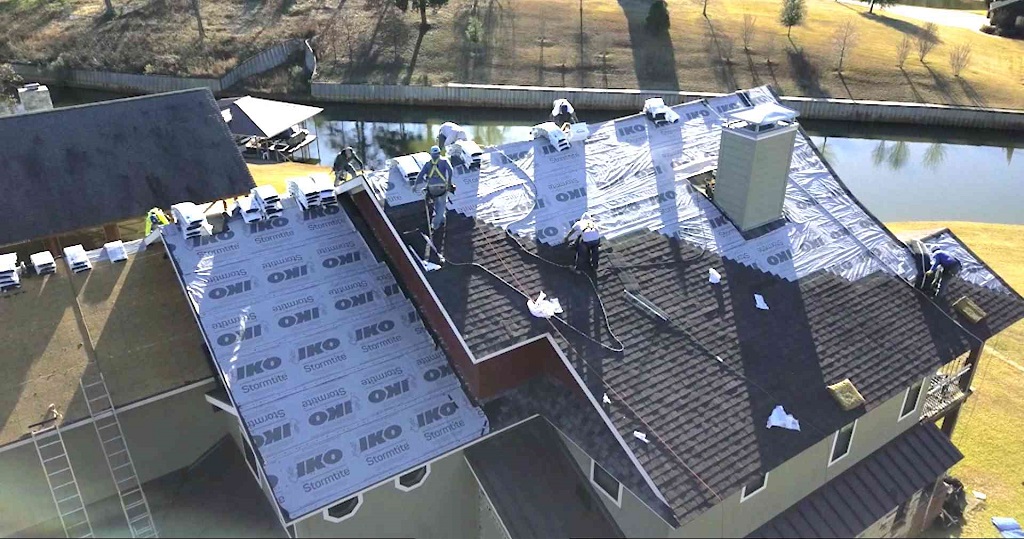 In Canada, all contractors, including roofers, need a surety bond before they accept a contract. Also, the industry is highly regulated. Only companies licensed by the Surety Association of Canada may offer you a surety bond.
There are several other types of bonds, including bid bonds, fidelity bonds and performance bonds, that could benefit your business.
Additional Insurance
There are other types of insurance you may want to consider for your roofing business, including:
Commercial auto insurance: Your personal auto insurance policy will not cover your work vehicle, which is a valuable asset you likely can't afford to lose. Purchasing insurance for it is a wise idea and is mandatory under almost all state and provincial laws.
Tool and equipment insurance: Your auto insurance may not cover the contents of your vehicle or equipment in your work storage space. For that, you need tool and equipment insurance, sometimes called a tool floater. A tool and equipment policy can reimburse you in the event that the tools you need to run your roofing business are stolen or damaged. Note that these policies usually don't cover stolen or damaged materials, such as premium shingles.
Umbrella insurance: This is an add‐on policy you combine with an existing insurance policy to raise the maximum coverage. You may want to add an umbrella insurance policy if your existing policy coverage is too low for the amount of risk you're assuming.
Errors and omissions: This insurance policy is meant to protect professionals who give advice or perform a service. If you make a mistake while roofing, give incorrect advice to a customer or forget to perform some aspect of the roofing job, this insurance can offer you some coverage.
About Roofing Insurance Price
Insurance rates vary widely, depending on your business, location and many more factors. To be sure you're paying a reasonable rate, look into several policies and compare their prices and relative coverage.
If you're starting a new roofing business, you may struggle to pay insurance at first. An insurance professional may have promotions or options that can make insurance more affordable for you. For example, some policies are paid monthly instead of annually, which can help keep your costs low when you're just starting.
Consider Roofers Insurance Carefully
The types of roofing contractors insurance you have and the amount of coverage you have both affect how your customer views your seriousness, professionalism and commitment. One of the main differences between a professional and DIY roofer is the amount of insurance the professional invests in. If you don't have appropriate insurance, a homeowner may choose another roofing company that does.
Proper insurance will also allow your business to rebound from accidents and mistakes, including injuries to your employees and any accidental property damage you might cause. Without insurance, you may lose your business assets, or your business itself, when these accidents happen.
Every roofing business is unique. You should always discuss these three types of insurance for roofing contractors with an expert who can tailor suggestions for your business, so it's protected with the right type and amount of insurance.
Learn more about how to start your own roofing business from IKO.