Table of Contents:
How to Start Your Own Roofing Business while avoiding the mistakes made by so many
So many roofing companies close their doors before they even get going. Yet, starting a roofing business is not hard to do when you can spot and avoid the pitfalls.
In summary, here's how to start your roofing business successfully:
Plan Not to Fail. With all the lists of what to do, what to get and where to get it, how come more new roofing businesses fail than succeed? Avoid error #1.
Hire an accountant.
Know Before You Go. It's vital to see how much it's going to cost before you start your roofing business. Only then will you know how much you'll need to stay afloat and turn a profit.
Establish costs and pricing.
Protect Yourself. Select sole proprietorship, partnership, corporation or LLC (limited liability company). Consult your accountant and your insurance agent.
Register, license and insure your roofing business.
Don't Overspend. A desk in your spare room, basement or garage and a phone in your pocket will get you rolling. Buy tools only as roofing jobs require them.
Ignore new equipment when used will do.
Recruit Wisely. You want roofers who know at least as much about roofing as you do. You'll most easily find them in and around roofing supply stores.
Hire the best and fire the rest.
Sell Well. Your future depends on how well you sell. Honing your sales skills at every opportunity is time well spent. The better you are, the bigger you'll be.
Create a great looking sales kit.  
Promote Without Advertising. There are lots of things you can do before spending on advertising. Entire businesses have been built on truck and lawn signs.
Invest in your signage.
Don't Bite Off More than You Can Chew. Learn from those who've been there, done that. Pursue only low-liability jobs you know you can do profitably.
Decline high-risk work.
Plan Not to Fail
With all the available online advice, all the lists of what to do, what to get and where to get it, how come more new roofing businesses fail than succeed? The answer, like all truths, is simple. Because nobody points out the pitfalls.
Once you've decided to go into the roofing business, the first thing you need to do is avoid the biggest pitfall of all and …
 
Get an Accountant
It's the secret ingredient you need from day one.
Meet with a good accountant, perhaps one referred by a trusted friend, and involve that person right from the start. Then — before you spend a cent on equipment — create a plan that clearly states your business goals and how you intend to achieve them.
You could also contact a business consultant or check in with the U.S. Small Business Administration (SBA) or the Canadian Federation of Independent Business (CFIB); but the first thing they'll likely tell you is, "Get an accountant."
 
Establish Your Costs
You have to know before you go.
It is absolutely essential to determine how much it's going to cost before you start your roofing business. Direct costs like materials and labor are easy enough to figure out, but soft costs such as administrative and marketing expenses must be considered in order to merely break even.
With your accountant, work out the cost of everything:
Vehicle.
Equipment.
Registration.
Insurance.
Operational expenses, including labor wages and salaries.
Small website.
Promotional material, including signage and stationery.
Administration.
Commercial premises if other than your home.
Open a business bank account for your roofing company. Job deposit checks can be used to cover material costs as you move forward.
 
Set Your Price
The numbers have to make sense.
With your total costs known, you can now add mark-up for profit. Comparison to local competition might show that some roofing companies are higher priced and some are lower priced than you need to charge. The point is to sell at the price you need to get to ensure turning a profit and here's where some extra help can make all the difference.
In addition to your accountant, look for a mentor who has been there before you and succeeded. Roofing manufacturers like IKO will be only too pleased to help and they are not in competition with you. On the contrary, it is in their best interest to see you succeed and they have the experience to do precisely that.
 
Register Your Business
Set things up well with the government.
When registering your roofing business, it's also a good idea to register a "doing business as" (DBA) name. A catchy trade roofing business name can carry far more commercial value than a family name when it comes time to sell in the future.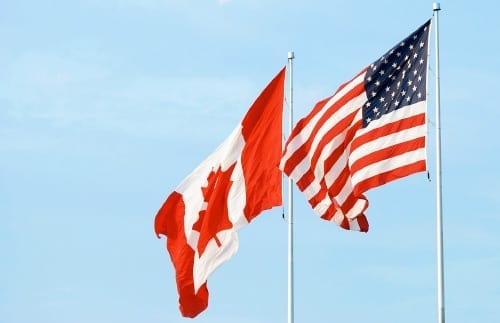 Decide whether you want to be a sole proprietorship, partnership, corporation or limited liability company (LLC). Consult with a lawyer in your area to see which entity is best for you.
Register in the U.S 
Register in Canada
 
Licensing
Get the authorization you need to operate.
Contracting licenses for roofing businesses differ for each jurisdiction. To determine requirements in your area, check with state/provincial authorities.
Local business permits may be required for each municipality you work in. Contact city hall to find out and obtain such permits when needed. Local government bodies might also demand approvals on zoning, planning and safety inspections.
 
Insure Your Future
Protect your investment.
Roofing is a rugged business in which accidents and injuries can and do occur. Insurance provides the means to financially protect your company, your employees, your customers and yourself against damage to life and limb, destruction of property and lawsuits.
While you will always need general liability insurance, each state and province have different insurance requirements for roofing contractors. To ensure the protection you need for your roofing company's security, these are the types of insurance you should examine with your insurance agent:
General Liability Insurance – Covers damage and injury to parties other than your employees.
Workers' Compensation – Covers work-related injuries to employees. Requirements vary from state to state, dependent on number of employees. This is required in all provinces.
Professional Liability Insurance – Protects your business against lawsuits.
Personal Liability Insurance – Protects you in case of injury.
Vehicle Insurance – Protects your work vehicles.
Equipment Insurance – Protects your investment in tools and equipment.
Set Up Shop
You don't need a complete office to start.
A desk, a phone and some basic stationery can get your roofing business rolling. Use the planner function in your phone to schedule customer appointments.
Set up space in your spare room, basement or garage.
Install a business phone or record a professional message for your personal phone.
Add an email address dedicated to your roofing company.
Order or create Estimate and Invoice forms online.
Round Up Your Equipment
Never mind new when used will do.
Equipment and tools to start a roofing company will depend on the type of roofing you provide. Residential roofing is cheaper and the easiest way to start. Commercial requires more capital.
Equipment will probably account for the largest portion of your startup costs. So, buy tools as jobs require them and never spend more than you have to during startup. Don't buy a new truck when an old one will do. You may be able to get a good used one for under $10k.
Here are some basic items you may need:
Truck.
Roof rack.
Hand tools such as a shingle hatchet.
Power ladder (optional).
Choose Your Suppliers
Meet all those nearest you and take your pick.
Decide the type of roofing material you want to work with. Asphalt shingles are recommended to begin with; they are the most common and most in demand.
You can purchase builder-grade shingles for quality installation or premium laminated shingles, which typically cost more, but look better, usually offer a longer limited warranty term, and may allow you to sell jobs for more money.
Now talk to the roofing suppliers in your area. Check to see if they've got what you need, if there's a delivery or rooftop charge, that you can buy on credit, and look for special rebates or promotions from manufacturers. Go with the supplier that best fits your needs.
 
Hire Your Crew
Hire carefully, retain the best.
One of the best ways to hire new roofer employees is to talk to the people who come in and out of supplier stores. You preferably want people who know at least as much about roofing as you do, and this is exactly where you'll find them. Ads on Craigslist can also pay off. Hire carefully, checking credentials, then keep the best and release the rest.
When hiring employees, you can apply for payroll accounts through the Internal Revenue Service or Canada Revenue Agency website.
 
Train Your New Hires
Do it while they earn money for you.
By all means train your employees on the job where you can watch and correct them. As their skills improve, so does their value to your business while they continue to make money for you in the process. You will also need to place high importance on safety training.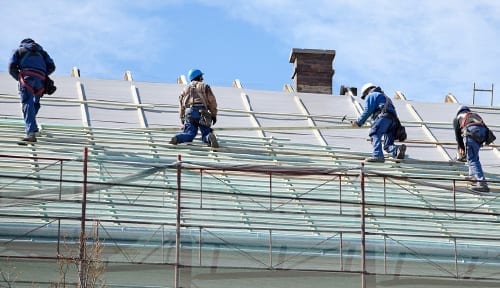 You'll find roofer safety issues in the U.S. thoroughly addressed at www.osha.gov. In Canada, the "Working at Heights" Training Course is required for all roofers in Ontario and Newfoundland and Labrador, with regulations for the entire country posted at www.fallpro.com.
 
Sharpen Your Sales Skills
Your future depends on how well you sell.
You'll be wearing every hat from director to driver when you first start your roofing business. But your most important role is going to be sales. Honing your sales skills at every opportunity will be time well spent. The better you are, the bigger you'll be.
Create a Good-Looking Sales Kit
Show what you've done in the past.
For sales presentation purposes, keep a record of your customers, the jobs you've done, where you did them and ask for reviews with permission to publish. Make an attractive presentation folder containing photos and references that you can show with pride – "before and after" pictures of some roofs you've installed can be a great visual sales tool. Create a gallery of best work on your phone or iPad as you go.
 
Select Your Method of Payment
Start with cash.
With everything in place, you now need to decide how you want to be paid. Cash and perhaps checks are definitely a smart way to start.
As your business grows, you can appeal to more customers by accepting credit and debit cards. This is easily done by contacting your bank and opening a merchant account. In the US, you might also consider the latest trend of working with a finance company like GreenSky to offer preapproved loans for your customers.
 
Promote Your Business
Don't pay for advertising till you've maxed everything else.
To get those roofing jobs coming in, there's so much you can do before spending money on advertising. Some of the cheapest strategies would involve:
Well-signed vehicle – big name, big phone number and web address.
Small mobile phones website, which you can create by filling in online templates.
Lawn signs — same as your truck signage — for every roofing site.
Free business listing on Google and other online directories.
Registering with

HomeAdvisor/HomeStars

. The more reviews you get, the more customers you attract. Tell prospects "Look us up on HomeStars."
Free

Craigslist

ads.
Your next step up the sales ladder would be to create, print and distribute door-to-door flyers throughout every area in which you work.
 
Words to the Wise
Don't bite off more than you can chew.
Make your roofing equipment pay for itself before you buy more.
Pursue only those jobs you can profitably complete.
Focus on low liability sloped roofs and less on flat roofs, which may require open-flame torches. 
Don't ignore the off-season.
If you're going to do business in a four-season climate, figure out how you'll stay solvent during the downtime. Options to consider include:
Don't get caught short for sales tax money.
It's so easy to use sales tax money as it comes in. But remember, it's not your money. Wherever you're required to collect sales tax, you're going to be required to account for same to the government. If you haven't got it, you're in a jam:
Set up a proper business account for your roofing company.
Discuss the merits of a set-aside account with your accountant.
As you grow your roofing business, be sure to ask us how to become an IKO ROOFPRO® member and improve your business.