What Are Architectural Roofing Shingles?
What Are Architectural Shingles? IKO Explains
Find out from the experts at IKO what architectural roof shingles are and how they differ
For most of us, buying a home is the single biggest investment we'll ever make so it's important to protect that investment over time. How? By making the most informed decisions we can when it comes to projects like replacing our roof.
As a homeowner today, you have so many options and variables to consider, it can be very confusing and a bit overwhelming.
In this article, we'll answer some of your most common questions, such as: "What are architectural roofing shingles?"; "Are they the same as dimensional shingles?"; and, "Which architectural shingles provide the best look and value for my style of home?"
The primary function of any roof is to protect your family, your home and its valuable contents against inclement weather. When choosing the right residential roofing products, you need to consider the climate you live in, the architectural design of your house, how long you plan to live in your home, what the neighboring houses look like and, of course, your budget.
What Are Architectural Roofing Shingles?
Until the 1980s, the most common type of asphalt roofing shingle was the traditional 3-tab which remains an economical choice among homeowners who appreciate its ease of installation and vast array of color blends.
During the 1980s, technological advances and changing consumer tastes took asphalt roofing shingles to a whole new level, resulting in architectural laminated shingles. The term "laminated" means that the shingle's construction consists of two or more basic shingles laminated or bonded together.
Both laminated shingles and traditional 3-tab shingles provide effective protection against wind uplift and blow-off. They also guard against damaging water penetration from wind-driven rain, offering you enhanced protection against the elements and great weatherability.
In the roofing industry, laminated shingles are further described as being "architectural" because they're specially engineered to create architectural interest for the roof by means of the individual shingle's contour, cut and dimensional thickness. The move from traditional 3-tabs to architectural laminated shingles was mainly an aesthetic evolution.
Architectural asphalt shingles can be made to simulate the impressive, sought-after look of genuine cedar shakes or natural slate tiles without the installation, weight, maintenance, flammability worries (in the case of real wood) and expense associated with genuine wood and stone roofing materials.
Some manufacturers' lines of architectural laminated shingles are available in quite an array of colors; however, those lines that are designed to mimic the look of genuine wood shakes or natural slate tiles will necessarily be limited to the same color blends as those found in nature; e.g., earthy or reddish browns, light and dark variations of grey to black.
Architectural laminated shingles are often described as "high-definition" because of the depth and contour of the individual shingle's profile. Some manufacturers use angled cuts while others, like IKO, use a straight cut which enhances the perception of depth and the appearance of a shake or tile roof.
IKO Dynasty® with ArmourZone® in Biscayne Performance class laminated shingle creates a textured, basket-weave appearance.
IKO Dynasty® with ArmourZone® in Glacier Performance class laminated shingle mimics the look of natural slate tiles.
The cost of architectural laminated shingles will vary considerably, not only by shingle manufacturer, but also within different classes. For example, some manufacturers like IKO produce a "Performance Collection" of laminated shingle that features a special reinforced nailing zone. This helps the shingle "perform" well in areas where high wind and stormy weather prevail.
*Special granules help inhibit the growth of blue-green algae colonies that can potentially cause streaks and discoloration.
IKO Cambridge in Harvard Slate
IKO Cambridge Cool Colors in Dual Grey
This class may also include shingles which can be used to comply with California Title 24 cool roof requirements, such as IKO's Cambridge Cool Colors, which were designed in accordance with environmental codes in effect in California to help reduce a home's carbon footprint and potentially save on home energy costs.
The higher, more expensive classes of architectural laminated shingles will most likely carry a Class 4 Impact Resistance Rating** which is for the sole purpose of enabling homeowners to obtain a discount on their home insurance premiums, if available in their area.
**This impact rating is solely for the purpose of enabling residential property owners to obtain a reduction in their residential insurance premium, if available. It is not to be construed as any type of express or implied warranty or guarantee of the impact performance against hail, of this shingle by the manufacturer, supplier or installer. Damage from hail is not covered under the limited warranty. For further details concerning the FM 4473 standards, visit the FM Approvals website.
Most homeowners seeking to replace their current roof will find exactly what they're looking for within the family of architectural laminated shingles. If you live in an area where strong winds and hail are common, consider the performance category. Blue-green algae resistance is a must in many climates. Local building codes in terms of fire resistance and Title 24 compliance may inform your choice.
Designer Architectural Laminated Shingles
Variously called "luxury," "premium" or "designer" by different shingle manufacturers, this category comprises the ultimate, top-of-the-line architectural laminated shingles.
Of all the different types of shingles, the premium designer category (which IKO calls its "Premium Collection") most closely resembles the look of genuine wood shakes or natural slate tiles. As a result, this class also tends to offer the smallest range of color blends because Mother Nature uses a very specific palette.
Some shingles in this class consist of not two, but three layers laminated together for an exceptionally thick dimensional profile. That degree of thickness and weight delivers lots of cushioning power against the impact of hail. Be aware that not all designer architectural laminated shingles carry a Class 4 Impact Resistance Rating as described above so, if this is an important factor for you, be sure to check the specs.
Because designer architectural laminated shingles are engineered to create the in-demand, high-end look of genuine wood shakes or natural slate tiles, they are an excellent choice for estate homes or other properties of distinction. They'll help your home blend into its natural surroundings or landscape, whether your home's style is traditional, rustic, contemporary or urban chic.
If you're planning to stay in your home for many years to come, these shingles will provide superior weather resistance and a solid long-term value for the cost.
If you intend to move in a few years, you may consider choosing the more economical architectural laminated shingles instead but either choice has the potential of boosting your home's resale value.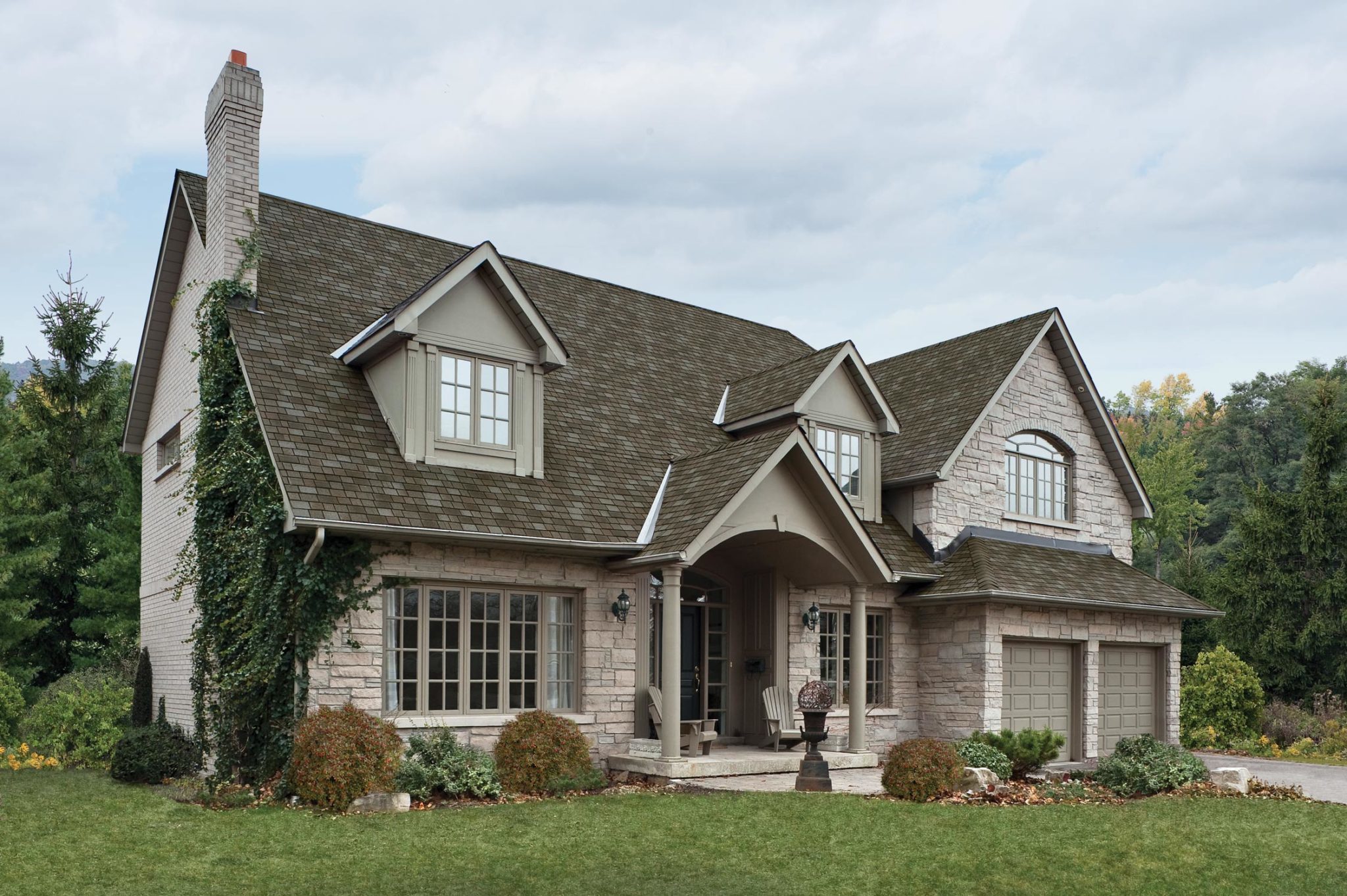 IKO Royal Estate in Taupe Slate
IKO Crowne Slate in Regal Stone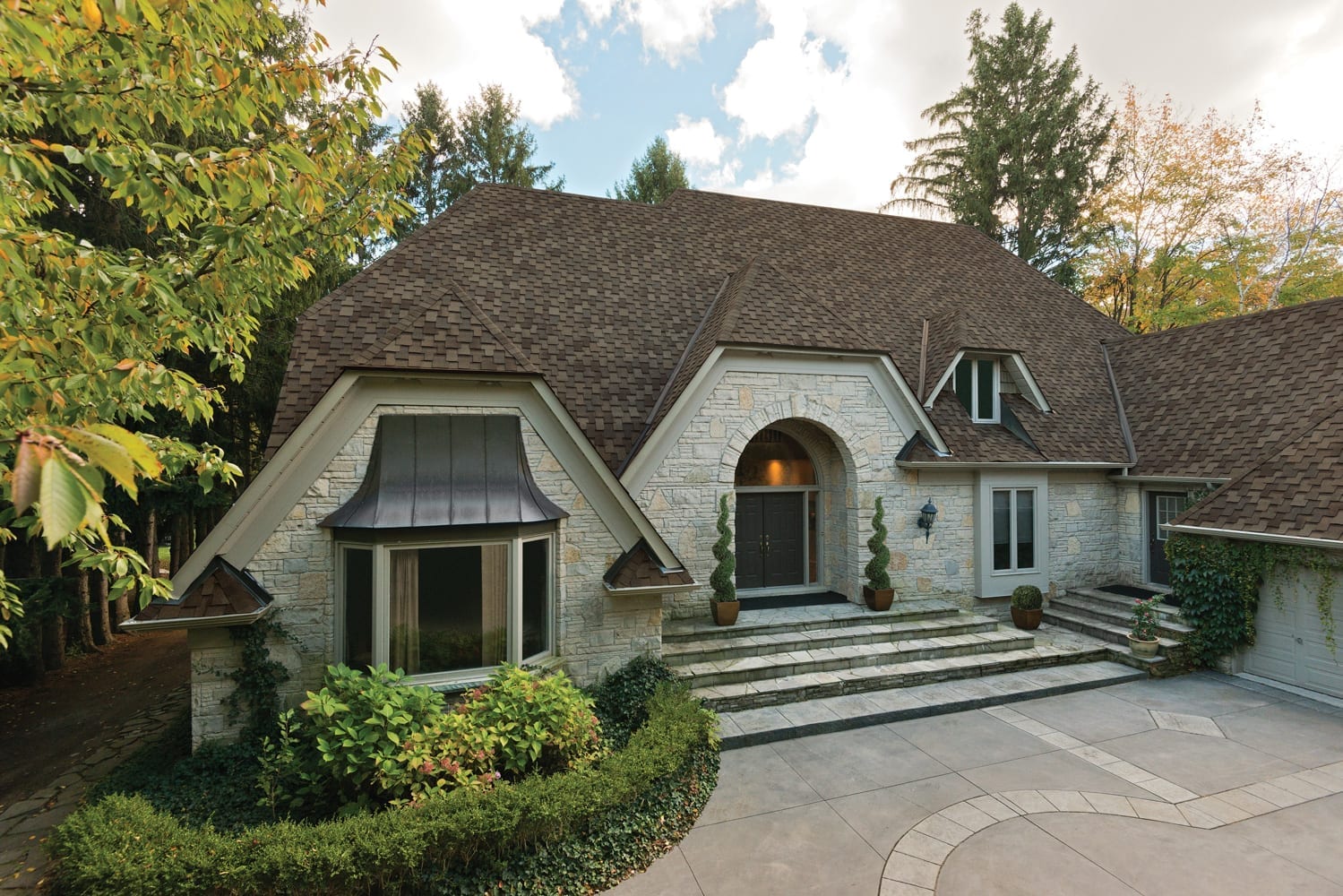 IKO Armourshake in Weathered Stone
Need Help Finding the Right Color for Your New Roof?
There's so much more to think about than just picking the right color to match your style of home, but that remains among the top considerations for homeowners.
Here are some tips on how to choose the right shingle color. We invite you try out the IKO ROOFViewer™ Interactive Roof Shingle Selector Tool to see how any of our shingles will look on your style of home and coordinate with other exterior elements. You can even upload a photo of your own home to try on different shingles.
Always look at actual shingle samples in various light conditions before deciding, just as you would look at paint samples when picking an interior color for your walls. An IKO sales rep or professional roofing contractor will be happy to help you. Just ask!