A Day in the Life of a Roofer: What Is It Like To Be a Roofer?
Everyone needs a roof over their head, so there is plenty of demand for roofers. It can be tough work, but it's also very rewarding to ensure that someone's home is protected. If you're considering applying for a job opening at a roofing company or maybe dreaming of starting your own roofing company one day, you may want to know what your everyday life will look like. What skills should you cultivate? What do you need to know to be prepared for the job?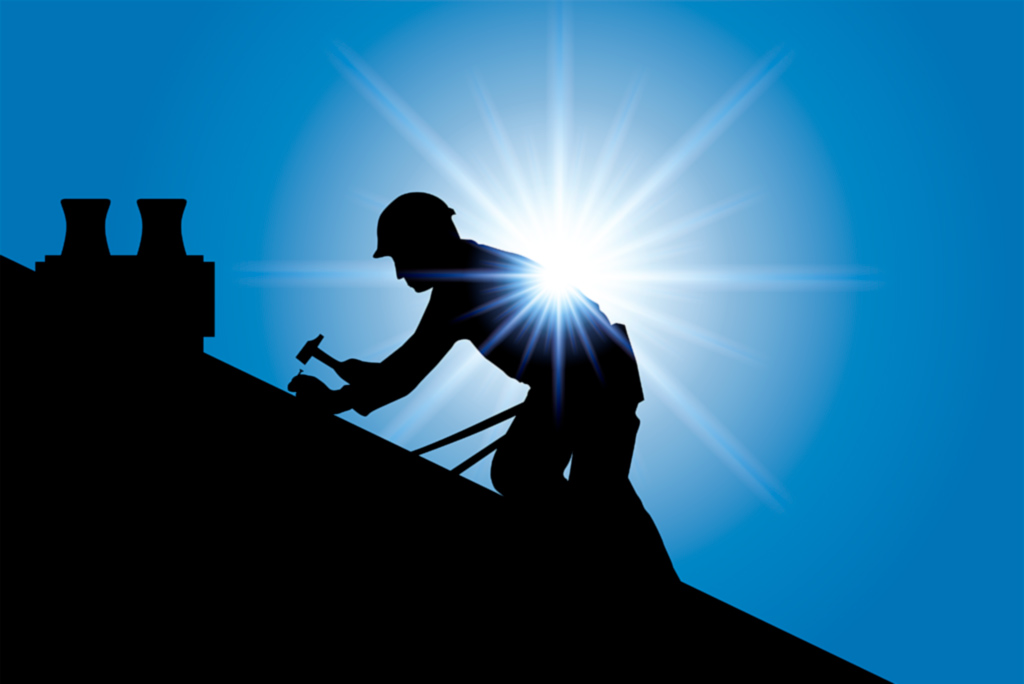 We reached out to Curt Clevenger of Creative Home Solutions in Ashland, Kentucky, to get an idea of how his roofers spend their day and what his day looks like too. Let us walk you through a day in the life of an asphalt shingle roofer and a day in the life of the owner too.
What It's Like To Be a Roofer
Roofing is a physically demanding job where you'll be working at heights with tools, such as nail guns. You'll have to climb up ladders, carry shingle bundles and move quickly, but precisely, across the roof when you're installing shingles. Roofing is hard work, made harder because you may be working directly in the sun in hot conditions.
The real day-by-day work is very physical. You'll head up and down the ladder throughout the day. First, you will head up to rip off the old shingles, flashing, membranes and any damaged plywood or OSB. All this old material needs to be tossed off the roof into a dumpster. Then, your team will get the new materials and shingle bundles to the roof, potentially by carrying it up on a ladder or using a machine to place it on the roof.
The actual installation process is also fairly repetitive and very physical. As a team, you'll unfurl layers of underlayment and secure it to the roof with nails or a stapler. Then, you'll apply each shingle to the roof with a nail gun, which will typically take up most of your team's day. The work of adding in flashing around dormers and down valleys is less repetitive, but also a small portion of the job.
Beyond the actual roofing work, you'll spend a lot of your time focusing on safety and receiving ongoing training about the latest roofing techniques. While roofers don't interact with customers much (that's usually the salespeople's job), they are typically part of a large team and need to have good communication skills.
Shift Work
A roofer needs to wake up early to get to the job site early. You might need to get up at 6 a.m. or earlier to make it in on time. Roofers need to start early so that they can take a break at the hottest part of the day when the temperature requires it. In hot weather, Curt's crew, which does a lot of work in Kentucky, may need to take a break from 11 a.m. to 4 p.m. to avoid heat stress.
Plus, roofers need to finish their work before sunset. In hot climates, that may mean working very late, as late as 9:45 p.m. in Kentucky. However, in some climates during winter, that might mean they need to finish up before five. There are no overnight shifts when you're a roofer.
However, there might be weekends. Most roofing companies schedule work for the weekends. It's likely you'll be a shift worker who works some weekends and takes others off. Not that a roofer necessarily works overtime. Most roofers, so long as they don't run the business themselves, work 40-50 hours per week. Roofers must be comfortable with shift work, unpredictable hours and some weekend work.
Weather and Seasonality
In most climates, roofing work is seasonal. When there is snow on the ground, roofing work slows down considerably. Asphalt shingles can still be applied in the winter, and, in fact, in some climates, like Alaska, summers are too short to get all of the roofing work done, so some must be in the winter. But the individual practices of each business will be different. Roofers in northern climates might have several months with little or no work. However, there is almost no slow season in southern climates that don't get much snow. So, it is essential to enjoy working outside in hot and cold conditions if you're a roofer.
Even if your climate has a long offseason, your employer may not necessarily lay you off. Instead, your employer may keep you on in the winter to complete training. To learn about safety and to improve their skills, roofers need to complete training on a yearly basis. Many companies will schedule most of this for the winter so that they can focus on completing jobs in the on-season.
In any season, rain can also prevent you from working. In wet conditions, roofing work may need to pause to prevent injury and ensure that exposed areas of the roof don't get wet before the new roofing materials are installed. Supervisors need to check the weather regularly so they will have the warning needed to put down tarps over damaged roofs that are vulnerable to rain.
Safety Talks and Meetings
You'll spend about 80% of your time on the roof, working with tools. What are you doing the rest of the time? Mostly, it's meetings and training. If you worked for Curt's company, you'd start every day with a five-minute safety talk. You might also attend monthly meetings with sales and ownership if you are a supervisor or team leader. You might also walk the customer through the finished roof once it's done, along with salespeople.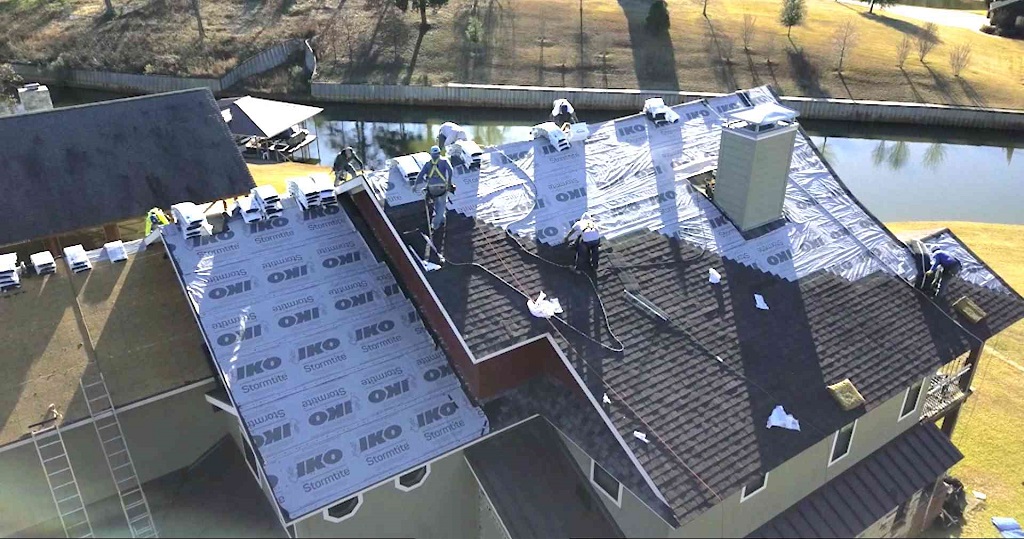 The Hiring Process for Roofers
If you're ready to apply to be a roofer, what should you expect? First, decide if you have the skills needed. Key skills roofers need include:
Physical strength.
Attention to detail.
Comfort with heights.
Communication skills.
Then, the hiring process starts with an interview. If you have previous experience, the company may give you a practical test. Either way, you'll start with training, and then you'll work with a supervisor closely. Once you're ready, you'll work more independently, but still in the team environment. You can expect solid pay in many roofing positions and, in the larger companies, room to grow and become a supervisor.
Working for the right company is important. Curt stresses that he makes sure his roofers follow safety protocols, like wearing proper equipment, taking a full break and staying hydrated. However, not all companies are as diligent about worker safety or about appreciating roofers as Curt feels they deserve. When considering your options, try to find roofing companies that will look out for you.
What It's Like To Run a Roofing Company
One of the best opportunities you have as a roofer is to start your own roofing company once you have the experience you need. Being your own boss is an exciting goal, but it also has drawbacks and demands. A day in the life of a roofing company owner is long and has many challenges, from paying the bills to looking at sales information and talking to customers.
Daily Operations
Curt's workday starts at 7:00 a.m. Instead of heading to the roof, as most of his employees do, he heads to the office. He looks at his schedule and appointments for the day and prepares for them. He might head out to a customer's roof to do walkthroughs or deal with customer complaints, but he spends more of his time off the roof, handling the ins and outs of the business. The primary tasks you can expect as a roofing company owner include:
Supervise employees: Hiring, training, resolving conflicts, scheduling, promoting and ensuring each team member does quality work are all up to you.
Manage supplies and equipment: Owners need to make deals and orders with suppliers to keep an inventory on hand to supply jobs. They also need to choose roofing tools, purchase them and maintain them. It's not all straightforward. Even a simple choice between renting and purchasing equipment can have big ramifications for the cash flow and success of your business.
Deal with accounting: From payroll to taxes, many accounting items will need your attention. You can have an in-house accounting department or outsource the work to an accounting firm.
Plan marketing: Deciding how to promote your business and assessing the effectiveness of your marketing campaigns are essential to your success.
Respond to customers: You may need to sell to customers, follow up on how their roofing work went and deal with complaints.
Curt is responsible for running most of the tasks for his business in Kentucky, but he has a leading employee handle most of the tasks in the two other states he operates in. The larger your business, the more you can delegate the work. However, when you first start a roofing business, you may need to handle almost all the day-to-day operations yourself.
Hours and Risk
The tasks of a business owner can feel never-ending. While you can choose to delegate many of these tasks to employees, there is still a lot of pressure on your time. To handle it all, Curt works a lot of hours. Indeed, most business owners report that they work 50 hours per week, and about a quarter work more than 60.
Unfortunately, despite your best efforts and hard work, the potential for failure is high too. According to Small Business Trends, only about 36% of construction companies make it to their fifth year of operation. That's lower than the overall five-year success rate of all small businesses, about 50%.
You can do things to reduce the risk that you'll face as the owner of a new roofing company. Spending some time researching common pitfalls and making a solid business plan is a good start.
Working With People
From Curt's perspective, one of the most challenging parts of running a roofing business is interacting with so many different people. From one moment to the next, he might have to talk to a disgruntled customer, go to lunch with a supplier and then advise supervisors on a situation. Managing people is undoubtedly a top skill that a roofing business owner needs to have. It is challenging for one person to cultivate the respect of employees, earn a customer's trust and negotiate shrewdly with a supplier. Each situation takes different skills.
Safety and Liability
Another challenging aspect of running a roofing business is that there are many liability risks and changing safety regulations. You'll need roofing contractors' insurance to protect your business from accidents. You'll also need to spend considerable time keeping up to date on changing safety regulations from OSHA and your state. If you operate in multiple states, as Curt does, you'll need to keep track of multiple sets of state regulations.
Not only are there safety concerns with having employees on the roof, but you also have to deal with the additional risks of working outside. You'll need to keep your roofers cool in hot conditions and keep them safe from ice and other risks in winter.
Why Start a Roofing Company?
With all these risks and demands, why start a roofing company? The daily life of a business owner can be gratifying. You'll have a large degree of freedom, and you'll have built something you can feel proud of and potentially pass on or sell down the line.
Curt says that return calls are one of the most satisfying parts of the job. When you provide quality service, and someone calls you back for their new home or their mother's home, you know that you're making a big difference in your community.
Ready To Start Roofing?
Do you want to learn more about roofing? We have resources whether you want to start your own roofing business or learn how to install different roofing materials. We have a great resource on roofing tools that can help you choose the right equipment to get started.